Posted by
Dan H.

| Posted in Comics | Posted on 22-08-2012
1
It's hard to know when it's a good time to start in on a new comic so to help you out I have listed some jumping on points I have found from personal reads and around the internet. If you are looking to add a little flavor this week but don't want to heavily invest in trades consider picking one of these up. If you know of something I missed from either 7/4 or the other three previous weeks, hit me up in the comments. If you need to know what the title or character has been up to previously then I highly suggest hitting the wiki over at Comic Vine.
Daredevil #17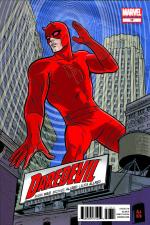 Out of all the comics I read, Mark Waid's run on Daredevil has been consistently new reader friendly. This issue of Daredevil is a special one shot that delves into the history Matt Murdock and Foggy Nelson. Also, if you haven't been reading Daredevil, it will help set up the upcoming four issue arc. This issue came about when artist Mike Allred (Madman, iZOMBIE) wrote a fan letter stating how much he loved the current Daredevil and wanted to draw an issue. He was taken up on that offer and this is the result.
Batwoman #12
Batwoman bucks the trend of not starting a new arc before September's #0 issues and thankfully gives me another jumping on point to talk about. This issue starts a team up arc with Batwoman and Wonder Woman. I've constantly heard good things about both titles but personally there is only so much bat I want to take on at once. I do think the cover of this issue is amazing.
Reviews: Comic Book Resources, Multiversity Comics
Related articles